My Blog
Posts for: April, 2015
By Laurel Smile Dentistry
April 23, 2015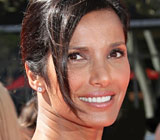 Before she began hosting the long-running TV competition Top Chef, Padma Lakshmi was a well-known model and successful cookbook author. (Appropriately, she is said to have been "discovered" by a modeling agent while sitting in a café in Madrid.) Yet the Indian-born beauty's striking look — at once exotic and familiar — doesn't come from any cookie-cutter mold.
So when Lakshmi had cosmetic work done on her teeth, early in her career, her dentist didn't use a cookie-cutter approach either: Instead, her smile was carefully designed, using small amounts of bonding material to brighten her teeth and to bring their shape and spacing into harmony with her facial features.
Dentistry by Design
What exactly is smile design — and what could it do for you? Essentially, it's the process of evaluating your smile in concert with the appearance of your entire face, and visualizing the changes — some dramatic and some subtle — that will make it really shine. Some aspects we consider include the face's shape, the proportion or "balance" of facial features, the complexion, eye and lip color and form, and the overall dimensions of the smile.
Based on dental aesthetics and clinical experience, we will probably have a number of suggestions to make on how you can improve your smile. Your input will also be very important; while some individuals prefer perfectly even teeth and a sparkling "Hollywood white" smile, others are looking for a result that's more in keeping with a "natural" look: slight irregularities in tooth shape, spacing, and even color.
There's no right or wrong answer here: Having a "perfect" smile means what's perfect for you, so it's very important for dentists and patients to communicate openly during the smile design process. But sometimes, words alone just aren't enough to convey the subtle dimensions of beauty.
The Trial Smile
Fortunately, it's now possible to preview your "perfect" smile using a number of different techniques. Advances in computer imaging make this the first step in previewing your new smile — you can see the changes before a single tooth is touched! Still, many people find that having a more concrete picture is helpful. The next step is to make a 3-D mock-up the proposed dental work on an actual model of your mouth. That way, you can see a physical representation of the final results — and even turn it around and hold it in your hands.
There's still one more way to really experience the difference cosmetic treatments can make without committing to a permanent change: the provisional restoration. Here, tooth-colored bonding material and other techniques are used to actually create the new smile — temporarily. This gives you time to "live with it," and see if the proposed changes work for you. If everything goes well with the provisional work, the permanent restoration is guaranteed to please.
So if you want holiday treats, get out the cookie cutter — but if you're looking for a smile that's uniquely yours, and one that enhances your own individual appearance… call our office and ask about a smile design consultation. You can learn more in the Dear Doctor magazine articles "Great Expectations — Perceptions in Smile Design" and "Beautiful Smiles by Design."
By Laurel Smile Dentistry
April 08, 2015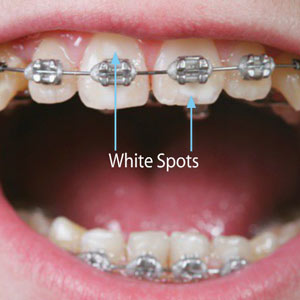 After months of treatment we've removed your braces and your new smile emerges. Upon closer view, however, you notice a number of chalky white spots on your teeth.
These pale areas are white spot lesions (WSLs), the result of mineral breakdown from the long-term contact of acid with the enamel surface. The underlying cause is built-up bacterial plaque due to inadequate oral hygiene, and as such WSLs are the beginning stages of tooth decay.
While anyone can develop WSLs, brace wearers are highly susceptible because of the extra care required to clean around orthodontic hardware. Poor dietary habits such as frequent snacking on sugary or acidic foods and beverages also increase the risk of WSLs.
To reduce the risk of developing this condition, brace wearers must give extra attention and effort to daily oral hygiene, including brushing and flossing. The extra effort required in brushing can be aided by specialized toothbrushes designed to clean around brackets and wires, along with prescription-level fluoride toothpastes for added enamel strength. Floss threaders or a water flosser, a device that uses pulsating water under high pressure, may help you maneuver around hardware to remove plaque between teeth. It's also important to maintain a healthy mouth environment by limiting intake of sugary or acidic snacks and beverages, avoiding tobacco or excessive alcohol or caffeine, and drinking plenty of water to keep your mouth from drying out.
If you've already developed lesions, it's important to stop the decay process before it causes more damage. One way is to assist your body's natural mechanism for re-mineralizing tooth enamel with fluoride pastes or gels or re-mineralizing agents, or undergoing micro-abrasion to repair a tooth's surface.
To improve a tooth's appearance a procedure known as "caries infiltration" involves injecting a liquid tooth-colored resin into the lesion, which is then hardened with a curing light. The spot becomes less noticeable and appears more like normal enamel. For extensive defects, conventional bonding with composite resins or porcelain veneers can be used to cosmetically cover the tooth.
Getting ahead of the problem with effective oral hygiene and good dietary and lifestyle practices will keep WSLs at bay while you undergo orthodontic treatment. If they do develop, however, there are ways to minimize their effect and restore the look of your teeth.
If you would like more information on dental care during orthodontic treatment, please contact us or schedule an appointment for a consultation.