My Blog
Posts for tag: cosmetic dentistry
By Laurel Smile Dentistry
April 23, 2015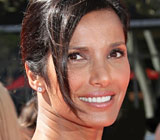 Before she began hosting the long-running TV competition Top Chef, Padma Lakshmi was a well-known model and successful cookbook author. (Appropriately, she is said to have been "discovered" by a modeling agent while sitting in a café in Madrid.) Yet the Indian-born beauty's striking look — at once exotic and familiar — doesn't come from any cookie-cutter mold.
So when Lakshmi had cosmetic work done on her teeth, early in her career, her dentist didn't use a cookie-cutter approach either: Instead, her smile was carefully designed, using small amounts of bonding material to brighten her teeth and to bring their shape and spacing into harmony with her facial features.
Dentistry by Design
What exactly is smile design — and what could it do for you? Essentially, it's the process of evaluating your smile in concert with the appearance of your entire face, and visualizing the changes — some dramatic and some subtle — that will make it really shine. Some aspects we consider include the face's shape, the proportion or "balance" of facial features, the complexion, eye and lip color and form, and the overall dimensions of the smile.
Based on dental aesthetics and clinical experience, we will probably have a number of suggestions to make on how you can improve your smile. Your input will also be very important; while some individuals prefer perfectly even teeth and a sparkling "Hollywood white" smile, others are looking for a result that's more in keeping with a "natural" look: slight irregularities in tooth shape, spacing, and even color.
There's no right or wrong answer here: Having a "perfect" smile means what's perfect for you, so it's very important for dentists and patients to communicate openly during the smile design process. But sometimes, words alone just aren't enough to convey the subtle dimensions of beauty.
The Trial Smile
Fortunately, it's now possible to preview your "perfect" smile using a number of different techniques. Advances in computer imaging make this the first step in previewing your new smile — you can see the changes before a single tooth is touched! Still, many people find that having a more concrete picture is helpful. The next step is to make a 3-D mock-up the proposed dental work on an actual model of your mouth. That way, you can see a physical representation of the final results — and even turn it around and hold it in your hands.
There's still one more way to really experience the difference cosmetic treatments can make without committing to a permanent change: the provisional restoration. Here, tooth-colored bonding material and other techniques are used to actually create the new smile — temporarily. This gives you time to "live with it," and see if the proposed changes work for you. If everything goes well with the provisional work, the permanent restoration is guaranteed to please.
So if you want holiday treats, get out the cookie cutter — but if you're looking for a smile that's uniquely yours, and one that enhances your own individual appearance… call our office and ask about a smile design consultation. You can learn more in the Dear Doctor magazine articles "Great Expectations — Perceptions in Smile Design" and "Beautiful Smiles by Design."
By Laurel Smile Dentistry
February 27, 2015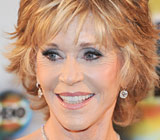 Not long ago, Jane Fonda gave a British interviewer a clue as to how she manages to look so young at her advanced age. During the 2011 Cannes Film Festival, the septuagenarian actress and fitness guru said to a journalist from the London-based Daily Mail, "See these teeth? They cost $55,000. It was teeth or a new car — and I opted for the teeth."
We think she made the right choice — though she might have overpaid just a tad. Most people don't have that kind of cash to spend on either a car or new teeth. But luckily, you can get either for a lot less — particularly the teeth!
The truth is, at a reasonable cost, cosmetic dentistry really can make you look a lot younger while giving your self-esteem a tremendous boost. It's an investment in both your emotional and oral health as we will never implement a smile makeover without first making sure we've addressed any underlying dental disease. Best of all, it doesn't have to cost anywhere near what you'd pay for the latest-model Jaguar, the price tag of Fonda's smile notwithstanding. Here is a list of the more common cosmetic dental techniques used to enhance a person's smile:
Whitening — a peroxide-based bleach is applied directly to the teeth to remove minor staining and discoloration.
Bonding — an acrylic material is applied to a tooth, colored and shaped to match the person's other teeth. Primarily used for chipped, broken or decayed teeth.
Enamel Shaping — the removal of very tiny amounts of enamel, the tooth's outer layer, for a more pleasing tooth shape.
Veneers — a thin shell of custom-designed tooth-colored material, usually porcelain, affixed to the front surface of the teeth.
Crowns and Bridgework — a technique that covers heavily damaged teeth or replaces missing teeth by capping them, or using capped teeth to support one or more false teeth.
Dental Implants — a small titanium post is surgically implanted in the jawbone to replace the root-part of a missing tooth. A lifelike crown is attached to the implant above the gum line and is the only part of the whole tooth restoration that is visible in the mouth.
Gum Contouring — a minor surgical procedure altering the position of the gum tissue to improve the look and regularity of the gum line around the teeth.
If you'd like more information on cosmetic dentistry, please contact us or schedule an appointment. To learn more, please read the Dear Doctor magazine articles, "Beautiful Smiles by Design" and "The impact of a Smile Makeover."