What are dental implants?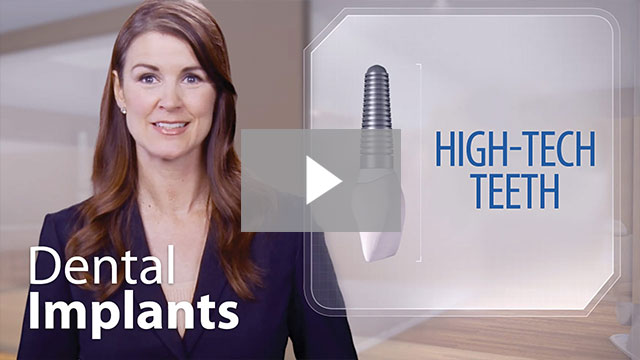 Dental implants replace missing teeth. They're different than removable dentures because your Laurel Smile Dentistry dentist permanently anchors the dental implant post inside your jaw. Then, your dentist attaches a replacement tooth. A custom crown fits precisely onto the replacement tooth, giving your new tooth a very natural appearance.
Am I a good dental implant candidate?
During your dental implant evaluation, you'll discuss your candidacy with your dentist. There are a few things necessary for dental implants, including:
A healthy jaw, with enough bone density to support the implants
Healthy gums, to help keep the dental implants in place
Good overall dental health, with no active gum disease or infections
Even if you're not a good candidate for dental implants right now, your dentist can tell you about some options to change that.
For example, during bone grafting surgery, your dentist adds new healthy bone from either your own body or from a donor to the area of the jaw where you need it. Synthetic grafting material is also available. The new bone or grafting material then works as a scaffold, and your body makes new cells to layer over it.
What is All-on-4®?
All-on-4 is a full-arch teeth replacement system that includes both dental implants and a fixed bridge. This system can replace either or both arches.
Your dentist at Laurel Smile Dentistry places four dental implants in each teeth arch, two in the front and two in the back, for stability. Then, your dentist fixes a custom bridge permanently to the dental implants. The result is a full-arch teeth replacement that looks and feels natural.
All-on-4 is a popular option for patients who want permanent teeth replacement but don't have the money for full-mouth dental implants. With just four implants per arch, the cost can be much less than full-mouth implants.
What is the dental implant process like?
It varies depending on how many implants you're getting and whether you have other dental issues. Usually, you'll have the implant post installed and then wear a temporary tooth replacement for a few months while the implant post fully fuses to your jaw bone.
When you return to Laurel Smile Dentistry, your dentist removes the temporary one and places the permanent ones. After that, you'll use the new dental implants just like your regular teeth.
Book your appointment at Laurel Smile Dentistry online or by phone now.
Related Dental Implant Articles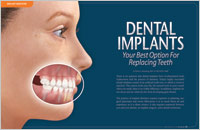 Dental Implants – Your Best Option For Replacing Teeth
Dental implants have many advantages over older methods of tooth replacement like bridges and dentures — from the way they function and feel to the way they look and last. Vigorous research has documented and confirmed that in the right situations, dental implant success rates are around 95%. It is no exaggeration to say that they have revolutionized dentistry. They may even change your life... Read Article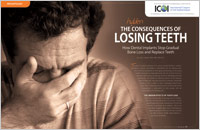 The Hidden Consequences of Losing Teeth
For those missing even one tooth, an unsightly gap is actually the least significant problem. What's of far greater concern is the bone loss that inevitably follows tooth loss. Dental implants fused to the jawbone can preserve bone, improve function and enhance psychological well-being. Learn how implants serve both as anchors to support replacement teeth, and preserve bone as one of the better preventive maintenance procedures in dentistry... Read Article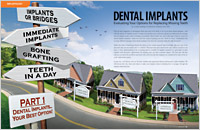 Dental Implants — Evaluating Your Options for Replacing Missing Teeth
As we guide you through the marketing hype you'll see that well planned implants most often require a team approach in assessing whether they're right for you. Not only are they a better treatment choice, they will last longer, possibly a lifetime, making them the right choice and the most cost effective option long term... Read Article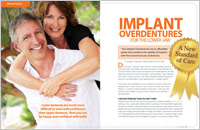 Implant Overdentures for the Lower Jaw
Implant overdentures represent a major change for the dental profession and the public. The lower jaw two-implant overdenture may be considered a more appropriate starting point over regular dentures... Read Article