What are the most common dental emergencies?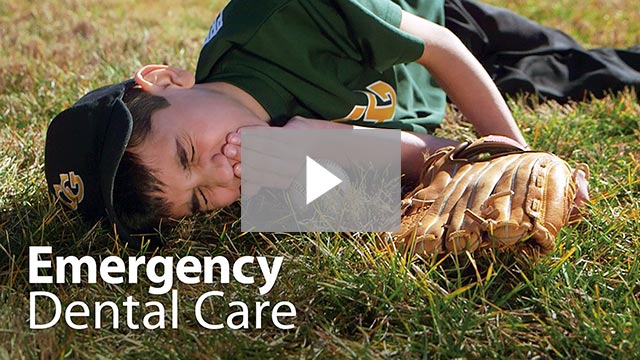 There are a number of common dental emergencies, including:
Broken, chipped, or cracked tooth
Knocked-out tooth
Shifted tooth
Gum bleeding that doesn't stop after 10-15 minutes of pressure with damp gauze
Foreign body suck in your tooth
Severe tooth or gum pain
Broken braces brackets or snapped wires
These are only some of the many dental emergencies possible. If you're not sure whether you need emergency dental help, call Laurel Smile Dentistry for guidance.
When should I go to the emergency room instead of the dentist?
If you're dealing with a dental emergency that's life-threatening, proceed to the nearest emergency room right away or call 911 for emergency help. If it's life-threatening, don't take any chances!
How should I handle a knocked-out tooth?
If your tooth or your child's tooth was knocked out during an accident, time is of the essence. Pick up the tooth, touching just the crown. If it's dirty, you can rinse it off but don't use anything other than plain water.
Try to put the tooth back in its natural place, and then hold down gently for five minutes. Don't press down firmly enough to cause further pain. If you can't put the tooth back, or you're worried about accidentally swallowing it, drop it into a cup of milk (ordinary vitamin D cow's milk).
Milk shares some chemical properties with your natural teeth, so it's a good preservation agent in a pinch. However, your tooth won't live in milk forever. The American Association of Endodontists recommends seeing the dentist within half an hour after the tooth is knocked out.
How can I relieve tooth pain in an emergency situation?
If you've got severe tooth pain, get to Laurel Smile Dentistry as soon as possible. You can use a cold compress on the outside of your jaw to numb the pain. Don't try to eat or drink anything, as this can aggravate your tooth and make the pain worse.
Reach out to Laurel Smile Dentistry for your dental emergency. Get in touch through the online tool or by phone now.
Related Dental Emergencies Articles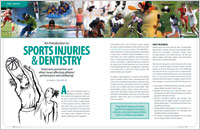 An Introduction to Sports Injuries & Dentistry
Dental injuries incurred during sports activities are highly treatable, and can involve positive outcomes if participants act quickly to see a dentist after an injury. However, if not treated quickly these kinds of injuries can lead to discomfort, embarrassment and a lifetime of dental costs... Read Article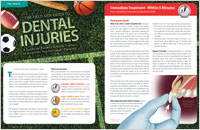 The Field-Side Guide to Dental Injuries
Accidents to the teeth, jaws and mouth can happen at any time during any sporting activity. Proper attention can save pain, alleviate anxiety and costly dental treatment. A little knowledge, as they say, can go along way. This field-side guide briefly explains some simple rules to follow when dealing with different dental injuries and when you need to see the dentist... Read Article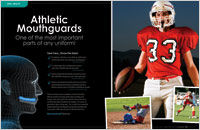 Athletic Mouthguards
There are times when an athlete can feel invincible... able to connect on every jump-shot, run faster and longer, or hit every pitch, but statistics show that even on their best days accidents can happen. An ounce of prevention goes a long way... For a small cost, a protective mouthguard can prevent excess anxiety, risk, injury, pain, suffering, and years of dental treatment... Read Article